Category:
Green Team
With nearly one thousand people celebrating Earth Day at our own Lexus Santa Monica, the Green Lounge event struck a chord in the luxury-green Los Angeles beach-side community. The evening brought together celebrities, thought leaders, top media, entertainers and decor with a hyper-focus on green/sustainability and the environment. Our Lexus showroom was converted into a "Buddha Bar" style lounge with green decor and surrounded by wonderful sights and sounds, not to mention cuisine.
In each of the lounges, guests could sample and buy products, meet with the companies' brand ambassadors and be a part of the of the unique event in an eco-luxurious setting."  Part of the evening was set aside to honor leaders and advocates in the environmental, wellness and philanthropic arenas:
[youtube=http://www.youtube.com/watch?v=W7BjCY8Ow4M?rel=0&w=480&h=298]
Mike Sullivan has been a tireless advocate and leader for green and environmental issues both in the Los Angeles community as well as the automotive industry.  As the worldwide top-selling dealer for both Lexus and Toyota Hybrids and a focus on lowering the carbon footprint that businesses impact the earth with, the family of dealerships is part of a larger movement building today in proactive ways to minimize the impact the earth and this is the one day each year that the focus is magnified.
Award recipients included Josie Maran of Josie Maran Cosmetics (Green Business Wellness Award), Mary Murphy of So You Think You Can Dance (Effecting Change Award), and Rory Freedman, co-author of Skinny Bitch (Wellness Award).  Global Green, the Southern California-based eco-company received donations at the front door from attendees. Two members of the LAcarGUY team are local board advisers to Global Green, which is part of Green Cross International (GCI), created by former Soviet leader Mikhail Gorbachev "to foster a global value shift toward a sustainable and secure future by reconnecting humanity with the environment."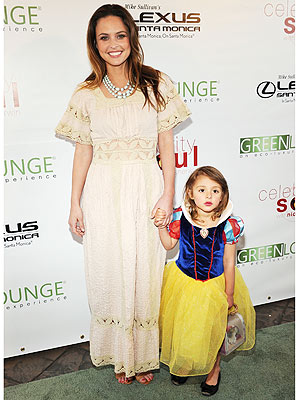 In January of 2010, LAcarGUY created an internal "Green Team" to encourage, inspire and educate its 800+ employees about reducing our individual and corporate carbon footprint. Formed by LAcarGUY's "Manager of the Environment", Alisha Auringer, the "Green Team" has developed green advocates from each of our ten dealerships and body shop.
Every Green Team member ensures our eco-policies are being carried out, informs employees about upcoming events and is a liaison between the dealerships and the Manager of the Environment. Members are also tasked with presenting ideas on how to reduce their dealerships footprint as well as events that would should participate in. These ideas are presented and discussed at the monthly green team meetings as well as determining an eco-activity that is promoted to all employees.
Past Green Team activities include a company-wide Christmas tree recycling campaign and Arbor Day Tree planting. Upcoming plans include a Spring Recycling campaign, an Earth Day event at Lexus Santa Monica and creating a green handbook for all employees.
Mike Sullivan personally created "The Manager of the Environment" position to focus on reducing our organizational carbon footprint, develop green educational programs and to grow relationships with local green organizations. The LAcarGUY Family of Dealerships are recognized around the Los Angeles area for being involved with Sustainability, Environmental and other "Green Movement" efforts.