Hummer versus Prius
Hybrid Synergy View Newsletter
September 2007 


Some readers of Hybrid Synergy View say they've heard about a report that claims a Hummer H3 sport utility vehicle uses less energy per mile driven than a Toyota Prius sedan. Not surprisingly, Prius fans who take pride in their cars' energy efficiency are confused by this claim. 


The report, published earlier this year by CNW Marketing Research, Inc., is titled "Dust to Dust: The Energy Cost of New Vehicles From Concept to Disposal." It is said to measure in dollars and cents all the energy used in creating, building, operating and disposing of each vehicle over its entire lifetime. The report says a Prius costs $3.25 per mile to operate, versus just $1.95 a mile for the Hummer H3. 

In May, a response from the Pacific Institute said of the CNW report, "The little supporting evidence that it has released suggests that the contentions in the report are, at best, unproven, and are likely wrong: the result of faulty analysis, untenable assumptions, manipulation and misuse of facts and data, numerical mischaracterization, and inadequate review."


By Jorge Casuso
April 20 — There aren't many car dealerships with showrooms that feature hand-carved chess sets or a fireplace or tapestries hanging from the walls.
But then, there aren't many car dealerships like Lexus Santa Monica, which held a grand opening celebration for its newly refurbished building Thursday night that drew some 1,300 guests to what is arguably the largest showroom in the Los Angeles area.
After a year-long renovation, the 1928 building resembles a Spanish mission with towering ceilings laced with trusses, the latest model luxury cars taking a back seat, at least for one crowded night, to their surroundings.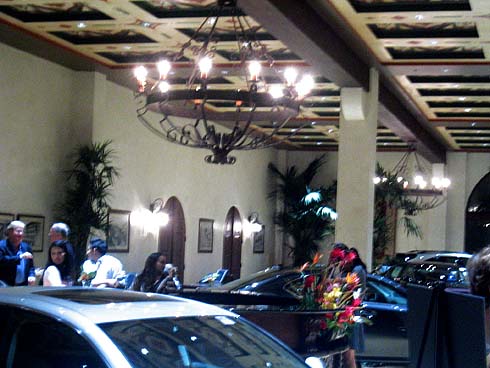 The new Lexus lobby features a decorated ceiling and mission-style chandeliers. (Photos by Jorge Casuso)
"We just went back and resurrected everything," said owner Mike Sullivan, who photographed Union Station and the Roosevelt Hotel as models for the look he wanted the renovated building to evoke.
"We're getting offers for weddings and proms," he added.
Those who stood under the lobby's decorated ceiling or wandered the 26,000-square-foot structure hung with custom built mission-style chandeliers dreamed up events of their own.
"How about Salsa dancing in the Lexus," one woman suggested. "Or cooking classes."
"We've had a request for a ladies' golf luncheon," said Steven McClintock, head of advertising for LA Car Guy, Sullivan's collection of six dealerships.
Dorraine Gilbert Weiss and Barry Weiss turn showroom floor into dance floor.
By renovating the Lexus dealership in Santa Monica, Sullivan cast a vote of confidence for a town he considered leaving four years ago when his expansion plans were frustrated by what he deemed a slow-moving City bureaucracy and a "capricious" Planning Commission.
The political scene has improved and the auto business — the City's prime economic engine — is on the fast track, he said.
"The economic model is phenomenal, the market is great and the political climate is functional," Sullivan said.
Former Mayor Michael Feinstein, who helped push for new auto dealer standards while on the council, said the City's efforts to accommodate the needs of its auto dealers have paid off.
"We sent a signal to people like Mike Sullivan that we wanted him here, and now he is still with us to this day," said Feinstein, who sought advice from Sullivan and his Volkswagen delership when renovating his vintage van.
"I am thrilled that a young-thinking, hip, yet down-to-earth person with business acumen has kept his existing dealerships in Santa Monica — and continues to invest in new ones here — when neighboring cities were courting him hard," Feinstein said.
Lexus party in full swing.
Turning the old dealership — with its service bays, closed framing and exposed roof — into a spacious upscale showroom was no easy task, said Don Wheeler, the architect responsible for the renovation.
"We rebuilt this building, other than a few walls," he said.
The massive doors were fashioned in New Mexico of salvaged wood, the trusses were beefed up and every window casement was replaced with wood, said Wheeler, who works for RTK Architects.
The ambitious renovation even turned up a few surprises — like the bathroom buried between walls that seemed to throw the drawings off. It was only discovered when someone poked a hole.
Inside the bathroom was a 40-year-old Valley paper with a front-page headline of the Sharon Tate murder and a coffee mug Wheeler kept.
"After all the time we spent on it, it feels great to stand here and say, 'Alright,'" Wheeler said.
Then he looked at the crowd eating fancy hors d'oeuvres and swaying to the jazz band playing a Billy Holiday tune.
"And it's a good place for a party," he said.
Plug-In Hybrids Hybrid Synergy View Newsletter
Winter 2007


The idea seems simple enough: Just add a cord and a plug to a Prius so you can charge its battery on ordinary household electric current overnight. Then, use only the battery power to make the short round-trips to work, school or the store. That would save lots of gas, and the charging could be done mainly at night, when utility rates are cheaper. When driving longer distances, the engine kicks in and the vehicle operates on gasoline, much like today's Hybrid Synergy Drive® vehicles. 

This inspiring idea has caught the public's attention as an energy-security measure that uses domestic and potentially renewable resources. Not surprisingly, it has prompted questions to automakers about when the first commercial plug-in hybrid can be expected.
As the leading maker of hybrid vehicles, responsible for three out of four sold in the United States last year, Toyota receives many of these questions.

Toyota believes plug-in hybrid vehicles are an appealing technology offering possibilities for energy diversity. Depending on electric power sources, they may offer reductions in both emissions and fuel consumption. Reaching this vision, however, will require breakthroughs in battery technology, including capacity, durability and cost. At present, plug-in hybrid vehicles are not commercially feasible.

It's about batteries
An earlier edition of Hybrid Synergy View pointed out that much of the "magic" that makes hybrid vehicles work involves high-voltage battery technology.